In the last couple of years, several transnational companies have decided to set up manufacturing operation in Mexico, due to the benefits Mexico offers for companies of different industries. Converting Mexico into one of the largest manufacturing countries worldwide.
Below you can find 6 of the main advantages of manufacturing in Mexico:
13 free trade agreements with 50 countries: Up to date Mexico has signed over 12 free trade agreements with 46 countries, which allows foreign companies to import some raw materials and products free of duties. Additionally, this FTA's provide Mexico with access to around 60% of the world's GDP.
Competitive labor costs: In Mexico direct labor cost is considered to be approximately 70% cheaper than United States. In which on average, a direct worker earns approximately $3.50 USD per hour.  Furthermore, the average minimum wage in Mexico is of $123.22 MXN pesos per day, except for the northern area, which is $185.56 MXN pesos per day.  According to the minimum wage in most of the country it corresponds to  approximate $6.16USD per day (taking into account an exchange rate of $20 MXN pesos per dollar) compared to a minimum wage in the US of $7.25 USD per hour.

Highly educated and skilled labor force.

Mexico graduates on average more than 110,000 engineers from universities and technical institutes, per year. In addition
Economies of scale: Mexico benefits of economies of scale due to its existing industrial clusters. It offers a wide number of customers and supplier options, as Mexico occupies: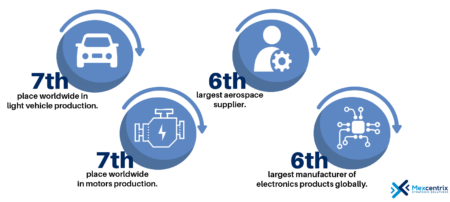 Competitive geographical location: Mexico has a competitive geographical location, its proximity to one of the main markets worldwide, USA, provides Mexico an advantage in logistic cost savings. It also facilitates transportation, for example managers in the US can take a flight and reach Mexico within a few hours to visit facilities. Furthermore, due to a similar time zone to USA or Canada, it facilitates communication and there is a less language barrier.
Export incentive programs: Mexico counts with diverse foreign trade incentive programs such as:

IMMEX Program: Is an instrument which allows the temporary import of goods that are used in an industrial process or service , to produce, transform or repair foreign goods imported temporarily for subsequent export, without paying VAT and countervailing duties, and deferring or not paying General Import Tax.
PROSEC: These programs are aimed at legal entities that produce certain goods, allowing them to import diverse goods for use in the development of specific products at preferential ad-valorem tariffs (General Import Tax), regardless of whether the goods to be produced are for export or the domestic market.
8th Rule:

It is the license or permit issued by the Ministry of Economy through any of the tariff fractions with heading 98.02 of the Tariff of the Law of General Import and Export Taxes that allows companies to import machinery and equipment, materials , inputs, parts and components in order to obtain administrative facilities and preferential tariffs.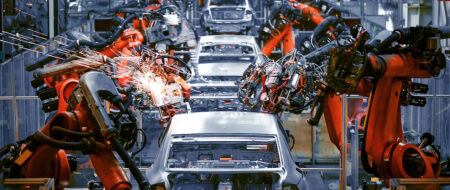 Shelter companies play an important role in helping foreign companies establish in Mexico, without dealing with the associated risks such as labor liability, ownership of facilities and limitation of liability in Mexico. Learn more about the advantages of shelter companies in Mexico, and what Mexcentrix can do for your company.
Want to learn more about manufacturing in Mexico? Mexcentrix can support you with a cost model for you operations in Mexico or a feasibility study. Contact us!