The manufacturing industry is the main economic activity in the State of San Luis Potosi.
There are several advantages of manufacturing in San Luis Potosi. Therefore, the manufacturing industry in San Luis Potosi, is extremely important and represents approximately 25% of its Gross Domestic Product (GDP). For instance, San Luis Potosi counts with a total of 9,962 manufacturing companies.
Furthermore, San Luis Potosí ranks in fifth place of the ten world cities with less than two million inhabitants that show the greatest economic potential, according to the ranking Global Cities of the Future published by the Financial Times magazine. Likewise, the capital of San Luis Potosí, ranks ninth among cities for the highest business profitability.
Moreover, San Luis Potosí occupies second place within Mexico, in terms of the specialization of the states in the automotive industry due to its added value of 39.4%, according to the Government of the State of San Luis Potosí. The manufacturing sectors with the highest participation in the state are transportation equipment (automobiles and auto parts), industrial machinery and equipment, electric appliances and electrical power generation equipment.
Why is San Luis Potosi one of the main manufacturing States in Mexico?
San Luis Potosi is an attractive state among the manufacturing industry, due to its competitive and highly skilled labor force, its privileged geographical location, and its existing clusters such as the automotive, logistics and medical cluster, which as a result you can find numerous suppliers from these industries in the State. In addition to its extensive number of highly developed industrial park, among other advantages San Luis Potosi offers for manufacturing companies.
Some of the main advantages that make San Luis Potosí an attractive state for companies looking to establish manufacturing operations in Mexico are listed below:
Privileged geographical location 
San Luis Potosí is located in the center of Mexico, having access in a range of 2 to 7 hours by land, to the main cities and ports of the country, as well as the EE.UU border.  Certainly, due to its strategic location, companies have access to a concentrated supply chain, in a 300 km radius there is access to more than 850 automotive suppliers and 9 assembly plants.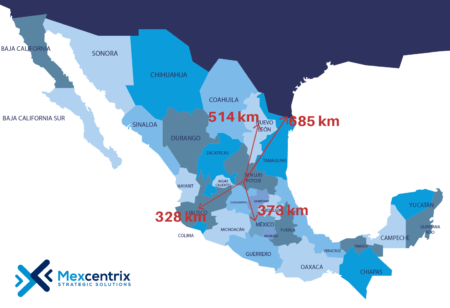 San Luis Potosi, counts with a fast growing automotive supply chain.  The establishment of two OEM Plants (BMW and GM) which together employ more than 3,300 employees, led to strengthening the local automotive cluster, leading to more than 200 companies from the automotive industry in the State.
In addition, the State counts with a strategic tax scheme (Recinto Fiscalizado Estrategico), which provides a competitive advantage due to time saving in the supply chain of companies.
The state has a population of 2.8 million, with approximately 1.2 economically active individuals. Of these, approximately 20% are employed working in manufacturing industries.
San Luis Potosí has international educational institutions, universities, and technological institutes with programs focused on the needs of the industry, including dual programs. According to the Secretary of Public Education (SEP), from 2016 to 2019 there were more than 54,000 graduates from universities or technical institutes of which more than 30% of these are professionals in engineering and telecommunications careers.
Furthermore, the state counts with training centers, and centers for research, innovation and technological development in this area.
In addition to highly skilled labor force, San Luis Potosi counts with competitive labor costs.
The state has the largest intermodal terminal in Mexico (RFZ) where approximate 20,000 loading and unloading maneuvers are carried out monthly.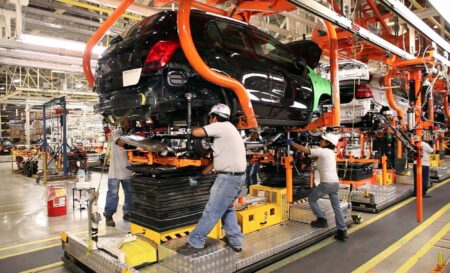 Furthermore, San Luis Potosi counts with more than 20 industrial parks. The availability of highly developed industrial parks reflect the opportunities for new investments, and facilitates companies to transfer their products to other states and worldwide.
Due to the manufacturing advantages San Luis Potosi offers, several foreign companies have decided to  establish manufacturing operations within the State.
Despite of the difficult economic situation that the world and all states in Mexico are going through, San Luis Potosi was one of the top 5 states with greater foreign direct investment (FDI) in the first semester of 2020, reaching a total of $880.20 million dollars, according to Lider Empresarial. 
 Are you thinking of establishing manufacturing operations in San Luis Potosí?
Mexcentrix can help you, our headquarters are established in San Luis Potosí.  We count with over 20 years of experience providing strategic guidance for low risk manufacturing in Mexico. We assure your company a successful and timely start of operations in Mexico.
The business services we offer are, among others:
Our services are 100% guaranteed, we are committed to the high quality service that our clients deserve, and we count with the know-how, experience and infrastructure to make it happen.
Start your Mexico manufacturing operation successfully, with help from the experts.
Contact Us