Daimay Automotive Interior inaugurated the facilities of its plant III and IV in Ramos Arizpe, Coahuila, where it will be generating 1,000 jobs.
In September 2020, it confirmed an investment of $ 32 million to expand its operations in this region and increase the production of interiors for cars such as headboards, visors and armrests.
The company installed in the Finsa Industrial Park will also manufacture some awnings for General Motors, which will be used for the assembly of electric vehicles.
Daimay is a Chinese company with more than 20 years of experience in the supply of automotive interiors, both in the area of ​​design and engineering and manufacturing.
Victor Villarreal, regional manager of Daimay, declared that the state is a competitive place that allows the constant expansion of its operations, having a qualified workforce and the advantage of having one of the best logistics for exporting products to North America.
Likewise, Miguel Riquelme Solís, governor of Coahuila, affirmed that in the entity the company will find all the tools to continue consolidating its brand, in addition to a first-rate infrastructure, labor peace and people trained to develop any type of projects.
Daimay Automotive Interior has already invested 150 million dollars and created 4,000 jobs, becoming one of the most important companies in the automotive sector in the state.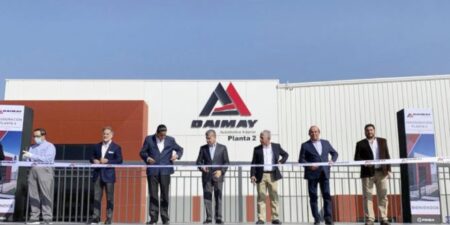 Source: Mexico Industry
Subscribe to our newsletter