Mexico is a country that highly depends on foreign trade, it has signed 13 free trade agreements (FTA) with 50 countries, therefore, mexican products have preferential access to the main markets worldwide that represents more than 50% of world GDP. The above mentioned makes Mexico an attractive country for manufacturing for a subsequent export, mainly in the automotive and electronic industries, Mexico plays a fundamental role in exports.
According to data from banco de Mexico, in 2020 exports of goods and services form Mexico totaled more than 400 billion dollars, equivalent to 47% of the national GDP, with Mexican production fully integrated into global value chain. Mexico ranked as the 11th exporter and 13th importer worldwide in 2020, according to the World Trade Statistical Review 2020 prepared by the World Trade Organization (WTO).
Exports
According to INEGI data in September 2021, exports totaled USD $41,680 million. In general, the. Main exported products are the following:
The export of cars in Mexico has been increasing each year and represents 11% of the country´s total exports, Mexico is the 5thlargest exporter and manufacturer of specialized and heavy vehicles and of automotive parts (making up 7% of total exports). United States and Canada receive the largest number of exported light vehicles from Mexico.
Around 48% of the national oil production is exported, its main destination is United States, but it also supplies to Canada, China, Japan, New Zealand, Australia, and Germany.
Mexico occupies currently the 9th place in regards to exports of copper worldwide. Due to Mexico's natural resources, different countries such as Canada, Germany, the United States, Japan, and Spain have been investing in this sector.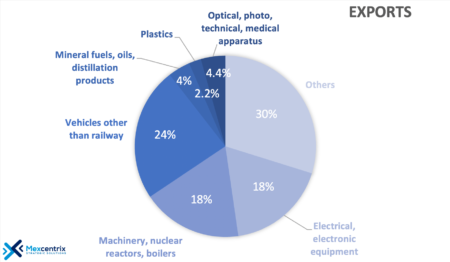 Source: (Trading Economics, 2020)
Imports
In September 2021, imports from Mexico totaled USD $44,078.46 million. In general, the main exported products are the following:
The most imported goods in 2020 were autoparts with a value of USD$ 22 billion in 2020, and mainly imported from United States, China, Japan and Germany.
Electrical and electronic Components
Within the second most imported category are electronic integrated circuits with a value of 18.8 billion, which main countries of origin are Malaysia, China, Taiwan and South Korea. Other relevant goods imported within this sector are: telephones, computers, data processing machines, machinery parts, electrical wires and cables among others.
The third most imported category in 2020 was composed by oils of petroleum or bituminous materials which more than 90% is imported from United States.
Mexico receives refined oil form the United States, as it cannot meet its demand and turns to foreign refined oil, since the Mexican economy is highly dependent on oil to run its industries and assembly plants.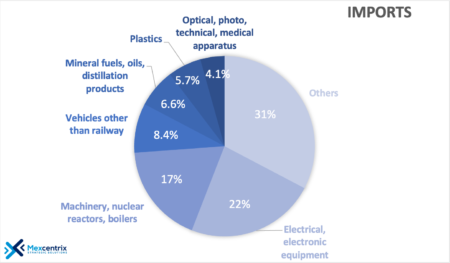 Source: (Trading Economics, 2020)
The manufacturing industry in Mexico has widely promoted exports and both have helped drive the growth of the economy in Mexico. The forecast for the next few years is that exports will continue to grow.
Are you thinking of investing in Mexico?
If your company is interested in investing in Mexico and importing or exporting from our country, consult our foreign trade services, we facilitate your operations and guarantee 100% compliance with the obligations, and we use our knowledge of Mexico´s trade agreements in an effective strategy for your business, significantly reducing costs and streamlining logistics.
Sources:
Data Mexico. (2021). Mexico. Retrieved from https://datamexico.org/en/profile/geo/mexico
Trading Economics. (2020). Mexico Exports by Category. Retrieved from https://tradingeconomics.com/mexico/exports-by-category
Trading Economics. (2020). Mexico Imports by Category. Retrieved from https://tradingeconomics.com/mexico/imports-by-category
WTO. (2020). Mexico. Retrieved from Trade Profiles: https://www.wto.org/english/res_e/statis_e/daily_update_e/trade_profiles/MX_s.pdf
Subscribe to our newsletter