Bosch Rexroth inaugurated its new plant in Pedro Escobedo, Queretaro, where it invested US$251 million and plans to add 900 jobs.
In an area of 42,000 square meters, it will manufacture hydraulic pumps for mobile machinery, linear motion technology for mechanical engineering applications in manufacturing and factory automation.
The company will have greater capacity to meet the growth of the mobile hydraulic systems and factory automation markets in North America, in addition to shortening delivery routes.
The new production unit strengthens the company's participation in North America in order to provide a more efficient service to its customers.
Reinhard Schaefer, member of the Board of Directors of Bosch Rexroth and responsible for manufacturing and quality, explained that the company's localization strategy increases the capacity, flexibility and strength of its supply chains.
This unit, he added, will help to reduce the CO2 footprint of the inputs produced in the region, as delivery routes will be shorter.
Christoph Kleu, Vice President of Finance and Administration of Bosch Rexroth in North America, emphasized that the new location will allow Bosch Rexroth to meet its customers' needs more promptly.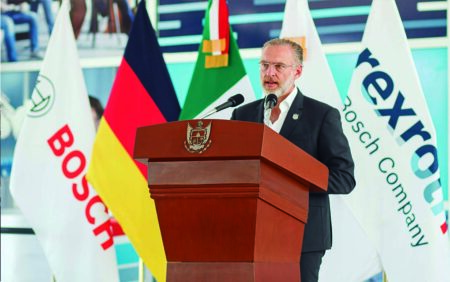 Source: Mexico Now
Subscribe to our newsletter