Nearshoring is becoming a popular word in conferences, summits, and other events, as it plays an important role in the reconfiguration and streamlining of supply chain processes worldwide and business expansion strategies, due to the importance of agility and flexibility in the current business environment.
What is Nearshoring?
Nearshoring is the strategy by which a company seeks to move part of its production to be closer to its final destination. Manufacturing companies are establishing their operations in Mexico mainly due to its proximity to the American market, looking to minimize risks, transport timing, and costs, among others. These initiatives are being driven by this trend among manufacturers in several industries, such as the automotive, aerospace, electronic equipment among others.
Nearshoring to Mexico: BENEFITS 
Faster shipping: The geographical location of Mexico provides a substantial benefit over China, as an ocean freight can be moved from Mexico to U.S. in 48 hours and in truck it can take 24 hours or less. Compared to approximate 2 to 4 weeks of an ocean freight to the US.  The abovementioned also implies lower shipping costs.
Supply chain optimization: Related to the above, Mexico´s 2,000-mile border with the US facilitates just in time delivery and supply chain optimization.
Similar time zone and proximity: Another advantage of nearshoring to Mexico is that its similar time zone and proximity allows for more regular visits from management who wish to monitor the process or make modifications. Travel to Mexico does not necessitate extensive planning.
Skilled labor at lower cost: The increased demand for labor in Mexico is one of the key advantages of nearshoring. In Mexico around 115,000 engineers and technicians graduate from university every year.

Infrastructure:

Transportation and Communications infrastructure have been upgraded to improve logistics for U.S. – Mexico border trade. Mexico has 76 international airports, more than 10 maritime ports and 27,000 kms of railway, which facilitate the flow of raw materials and final goods into the country and abroad.
Nearshoring to Mexico: CHALLENGES
There are numerous advantages to nearshoring to Mexico. However, there are certain difficulties in this process, ome of these challenges are:
Insufficient available facilities, as FDI keeps increasing the availability of real state options in the main industrial cities has decreased.
Increase cost in real state options.
High levels of insecurity in some desirable locations
The lack of availability of sufficient electricity in many states of Mexico, is an important challenge for companies with high power requirements to run operations in Mexico.
Overall, Mexico is considered and strategic location for nearshoring operations due to the several advantages it has to offer but it is also vital for government to develop favorable conditions in order to meet enough energy demand, maintain legal clarity, and promote safe conditions for foreign investors, as experts predict that nearshoring to Mexico will continue to grow in popularity.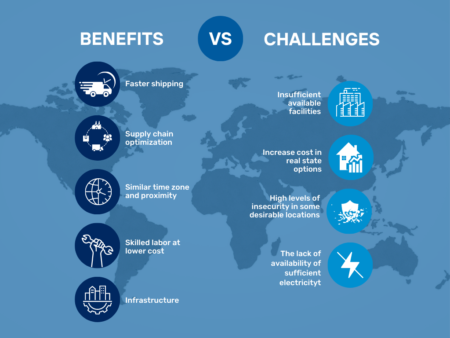 Mexcentrix Shelter Services
If you are interested in Nearshoring to Mexico in Mexcentrix, we can help you by offering the necessary resources and knowledge.  Our Selter-Services offers full administrative and operational support including human resources, payroll, tax and accounting, foreign trade, among others. Through our shelter program, our clients can focus on what they do best (production, quality, materials) and let us take care of the rest.
For further information, please contact us. 
Subscribe to our newsletter