Is your company looking to establish manufacturing  operations abroad. Learn why Mexico is a great option.
 Mexico provides promising business opportunities to foreign companies. Mexico is one of the emerging countries most open to foreign direct investment with a FDI of $US 628 billion in 2019. The countries with higher investment  are United States, Spain, and Canada. Most foreign investment from January to June 2020 is in the manufacturing industry (43.2%), financial services, transportation, commerce, mining and energy; according to the Secretariat of economy.
Furthermore, Mexico is  the 15th largest economy in the world as well as is ranked in 60th place, out of 190 economies, of the Ease of Doing Business Ranking 2020 of the World Bank.  According to the same study it is considered one of the top business-friendly environment in Latin America.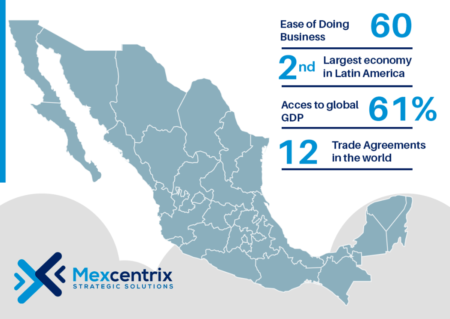 Why it is easy doing business in Mexico?
Strong manufacturing and business environment
Mexico has created different foreign trade promotion policies specifically designed for the manufacturing industry. These policies aim to facilitate international trade operations, create economic incentives, and provide legal security for export manufacturing companies.
Mexico counts with 13 Free Trade Agreements with 52 countries and another 41 other agreements, thereby giving access to 61% of global GDP and over 50% of global trade.
Mexico's competitiveness relies on its extensive free trade agreements as a crucial force for its economic development. Including  the United States-Mexico-Canada Agreement (USMCA), which is one of Mexico's main traties, has highly attracted foreign investment in the manufacturing sector; as companies can export their products from Mexico to one of the biggest economies (United States) with few trade barriers.
Mexico has about 75 tax treaties in force to avoid double taxation, according to Doing Business Mexico.
Furthermore, an important incentive for foreign companies looking to do business in Mexico is the the IMMEX program, which  allows the temporary import of goods, to produce, transform or repair foreign goods imported temporarily for subsequent export, without paying VAT and countervailing duties, and deferring or not paying General Import Tax.
Other program in Mexico that benefits to the other countries is PROSEC, this is a duty relief mechanism that allows the importation of certain raw materials, machinery and equipment at preferential duty rates, regardless of the origin, among other incentive programs.
One of the first things that many manufacturers consider when evaluating an operation in Mexico are labor costs. Mexico has skilled, young, and available workforce, both low-cost workers and high-quality experts.
In Mexico, on average, a direct worker earns approximately $3.50 USD per hour.  Furthermore, the average  general minimum wage for 2021 is around 7.0 USD per day , and it is applicable mostly throughout the country, except for the Northern Border Strip. The Northern Border Strip is subject to a higher minimum wage, about 9.27 USD per day.
Also, Mexico has a strong network of highways, railways, and international airports, that provide companies with accessibility for doing business, in regards to logistics for goods transportation and traveling for managers
Moreover, Mexico's counts with a valuable location for U.S.-based companies or companies looking to enter the U.S market due to its proximity and the advantage of being in similar  time zones. Its proximity to one of the main markets worldwide, USA, provides Mexico an advantage in logistic cost savings
Shelter service providers 
Mexico has different companies with which you can support your company to settle in Mexico smoothly, in a more efficient way and through a risk mitigation approach. Furthemore, Shelter services considerably reduce start- up time.
If your company is planning to establish operations in Mexico, a good option will always be to associate with a local company, that counts with experience and know-how of local regulations.
Learn more about Mexcentrix, through our shelter program, our clients can focus on what they do best (production, quality, materials) and let us do what we do best.
For additional information regarding our services or if you need a cost model for your operations in Mexico, contact us.
Subscribe to our newsletter