Foreign companies have the opportunity to expand their operations to Mexico through different schemes, one of them is the shelter modality which helps foreign companies start operations faster, more effectively, and through a risk mitigation approach.
What is a shelter company in Mexico?
A Shelter company in Mexico is a service provider that manages all administrative and legal tasks for another company, allowing to the company focus on the core business of the company. Through a shelter company, there is no need to hire personnel for administrative functions.
What services does a shelter company in Mexico provide?
Shelter companies in Mexico, as mentioned earlier, can support to the foreign companies in important administrative business tasks such as: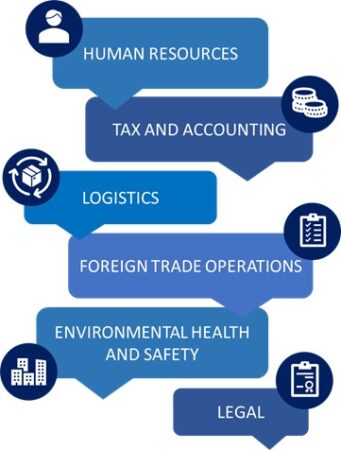 The type and time of service depends on the needs of the company. Some of the most common industries that use shelter services include aerospace, electronics, metal mechanics, general consumer products and automotive.
Benefits of Mexico Shelter Services
Mexico shelter services provide manufacturers all of the advantages of manufacturing in Mexico with none of the struggle and difficulties of starting operations in a new country, that is why companies from all over the world have found in Mexico a safe investment ally. Some of the advantages of working under a shelter company are:
Minimize Risk and Liability
For most companies, operating under a Mexico shelter is the safest way to do business. As they are protected from many risks and obligations that normally affect companies that choose to start operations in Mexico through a stand-alone approach.
Due to economies of scale, companies benefit from cost reductions in the start up and operations phase.
Partnering with Shelter company, will support with the obstacles, and obtaining the necessary permits to start production in Mexico. Also due to its experience and know how, there is significant time reduction in many processes, resulting in a faster startup. For example, shelter services in Mexico can typically launch production in just 6 to 8 weeks.
Maintain Production Control
Despite most of the administrative tasks being handled by the shelter services, you'll still maintain control over your processes and retain full intellectual property rights.
Choosing a shelter service provider
In Mexico there many companies that offer Shelter services and it's important to examine each one and the services they provide, in order to choose the correct one that will allows you stablish an effective production facility in Mexico.
Services with low rates do not always mean a better option, you must take into account what the company's priorities, the quality of their services, the commitment they have to the client and the benefits that they provide.
Meet Mexcentrix
Mexcentrix is a shelter company with well-established operations that can accommodate the fastest start-up possible. We can get your operations up and running in as few as 30 business days with a cost-effective and flexible shared business services plan.
Through our shelter services, we enable companies to improve cost- efficiency and reduce the risk of manufacturing in Mexico by outsourcing the administration of the Mexico manufacturing facility including Human Resources, Tax, and Accounting, Foreign Trade among others.
By these means, our clients can focus primarily on production functions and quality control, while we handle the rest. Contact us for more information. Contact us for more information
Subscribe to our newsletter