Kuntai Company is looking to set up in Durango, a region where it plans to invest around 57 million dollars and generate 500 direct jobs.
The Chinese company is engaged in the design, development, production and sales of soft interiors for vehicles. It is also a global supplier of automotive parts, with commercial partners such as Audi, Volvo, GM, Toyota, Nissan and BMW. However, it stands out for being Tesla's main supplier.
Products made by Kuntai Company include essentials such as floor mats, inner and outer wheel covers, spare tire covers, as well as seat back motor cover plates, among others.
Durango Governor Esteban Villegas Villarreal met with Zhang Ming, CEO of Kuntai Company, and Zhang Ming Di, Executive Vice President in China, marking the beginning of a crucial investment in Durango.
Kuntai Company's decision to locate in Durango is based on multiple advantages, including the availability of essential services such as water, electricity and natural gas. In addition, the strategic land connectivity from Mazatlan to the United States adds a vital component to the proposal.
Kuntai Company is currently in search of suitable land to build its industrial warehouse and yard in the state of Durango.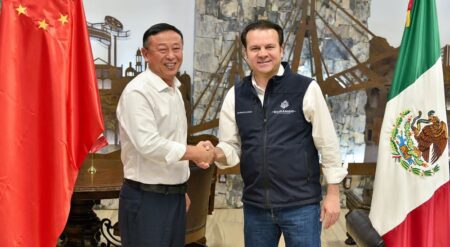 Source: Mexico Industry
Subscribe to our newsletter