What is Nearshoring?
Nearshoring is a business strategy where a company relocates or expands its manufacturing capabilities into a foreign country closer to the country where the current or parent company is located.
By these means,  manufacturing in a nearby country, the company can benefit by taking advantage of proximity or socio-economic or socio-political factors of a specific country.
According to El Economista based on the 2023 Kearney FDI Confidence Index, imports from Mexico into the US have grown at least 76% in the last decade, and have surpassed Asian countries as shown in the graph below: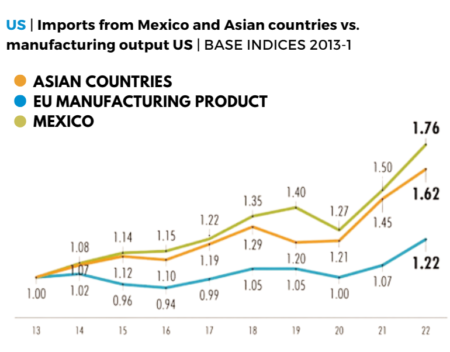 Source:  El Economista (2023) México gana a países de Asia y a EU con nearshoring: Kearney obtained from: https://www.eleconomista.com.mx/empresas/Mexico-gana-a-paises-de-Asia-y-a-EU-con-nearshoring-Kearney-20230623-0003.html
Mexico Exports to the U.S.
The growth of imports into the US from Mexico is driven mainly by 3 factors:
U.S. companies already sourcing directly from China are decreasing.
Most of the products manufactured in Mexico that supply the U.S. market come from American or European companies that want to increase their capacity in Mexico and are looking to minimize supply chain risks by nearshoring.
Chinese investment in Mexico has increased and more Chinese companies are installing production facilities in Mexico, in order to take advantage of the USMCA and minimize the import duties into U.S.
Nearshoring to Mexico and the aerospace industry
The aerospace industry in Mexico has consolidated as a very important industry in the last years, as it is a very important sector which contributes significantly toward the overall growth of Mexican economy.
Mexico is the 14th largest aerospace supplier globally, and around 80% of the production of the aerospace industry in Mexico is exported to the U.S.
Currently there are over 350 aerospace companies located in Mexico, this number has increased in the last years and is expected to continue growing as companies see Mexico as an strategic location due to nearshoring.  According to Mordor Intelligence, the Aerospace Industry in Mexico is estimated at USD 9.72 billion in 2023, and is expected to reach USD 19.71 billion by 2028, growing at a CAGR of 15.18% FROM 2023 to 2028.
Aerospace manufacturing capabilities in Mexico range from engines to turbines, cargo doors, fuselages, landing gear assemblies, seats, and several other components that are now present in many airplanes used over the world.
Moreover, Mexico aerospace clusters are located mainly in 5 regions which include Baja California, Chihuahua, Sonora, Queretaro and Nuevo Leon.  Some of the main OEMs include Honeywell, Bombardier, Airbus and Beechcraft.
Main factors driving the aerospace industry
Some key benefits that Mexico can provide for foreign aerospace companies are:
Proximity

Time zone alignment with U.S

Costs savings
Beneficial trade conditions
Low labor costs
Growing market
Shelter services for Aerospace companies
The above-mentioned clusters and established supply chain in the aerospace industry, provide foreign aerospace companies the confidence that they can consider Mexico as a long-term strategy.
If your company has future plans to nearshore operations to Mexico, contact us for a free consultation.  Our more than 20 years of experience can help your company set manufacturing operations in Mexico successfully and in the shortest amount of time.
Mexcentrix can support you since a feasibility or cost model analysis, site selection, obtaining permits and licenses for operating in Mexico, recruiting of employees, among many other administrative tasks, which will simplify your operations in Mexico.
We become your strategic partner in every step of the process.
Subscribe to our newsletter