For many years, Mexico has been considered as an attractive location to establish manufacturing operations due to the different advantages it offers for manufacturing companies, such as:
One of the main advantages driving companies to establish manufacturing operations in Mexico, is its competitive labor cost.
In 2021, the minimum wage in Mexico increased by 15%, with an increase from minimum wage will increase from $ 123.22 MXN pesos to $ 141.70 MXN pesos per day in most of the country, while in the Free Zone of the North Border it will increase from $ 185.56 MXN pesos to $ 213.39 MXN pesos per day. Nevertheless, most workers in Mexico earn more than the minimum wage. The average wage for a direct worker in Mexico $3.50 USD per hour.
The chart below shows the average hourly fully burdened labor rates in USD for different direct labor positions  in Mexico. Please note that the above numbers are an average and can vary depending on the region/ state in which the company is established.

Moreover, average manufacturing wages in Mexico are more competitive than other countries which are considered to have low labor costs such as China, which counts with an average manufacturing labor cost per hour of $6.50 USD compared to $4.82 USD in Mexico. Below you can find a chart with the average manufacturing labor costs in Mexico compared to other countries:
13 free trade agreements with 50 countries
 Up to date Mexico has signed over 13 free trade agreements with 46 countries, including one of the most important which is the USMCA (United States-Mexico-Canada Agreement) which allows foreign companies to import some raw materials and products free of duties. Additionally, this FTA's provide Mexico with access to around 60% of the world's GDP.
No restrictions on foreign ownership
Additionally, compared to other countries, such as China, Mexico does not have any restriction on foreign ownership of manufacturing. And the government does not interfere directly with private companies. Furthermore, the government promotes foreign investment by providing incentives to foreign companies.
Mexico benefits of economies of scale due to its existing industrial clusters. It offers a wide number of customers and supplier options, as Mexico occupies: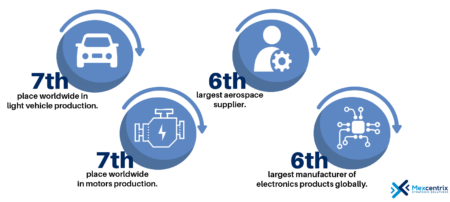 In addition, due to the above-mentioned, Mexico counts with advanced manufacturing supply chains from various industries including automotive, aerospace, electro domestics, among other. Manufacturers can easily find in Mexico strong supply chains which support different activities such as plastic injection, stamping, machining, foundry among others.
As neighbor of one of the most important markets, United States, it offers important advantages such as streamlined logistics, cheaper shipping costs and  shorter overall times for shipping.
As an example, it costs around $6,000 to ship a 53 foot container from China to Los Angeles, compared to  $720 USD to ship a 53 foot container from Tijuana (in the border of Mexico) to Los Angeles.
Foreign Trade and Tax Incentives Programs
Mexico counts with diverse foreign trade incentive programs such as:
IMMEX Program: Is an instrument which allows the temporary import of goods that are used in an industrial process or service , to produce, transform or repair foreign goods imported temporarily for subsequent export, without paying VAT (16%) and countervailing duties, and deferring or not paying General Import Tax. In order for not paying VAT the company in addition to being registered under the IMMEX program must count with the VAT and IEPS certification.

PROSEC

:These programs are aimed at legal entities that produce certain goods, allowing them to import diverse goods for use in the development of specific products at preferential ad-valorem tariffs (General Import Tax), regardless of whether the goods to be produced are for export or the domestic market.
8thRule: It is the license or permit issued by the Ministry of Economy through any of the tariff fractions with heading 98.02, that allows companies to import machinery and equipment, materials , inputs, parts and components in order to obtain administrative facilities and preferential tariffs.
All of the above mentioned are some of the main reasons why Mexico has become a preferred destination for transnational manufacturing companies. Therefore, in Mexico you can find manufacturing facilities of some of the biggest companies worldwide. Within the automotive industry you can fine Volkswagen Group, BMW, GM, Toyota, Daimler, Ford Motors among others. In addition to Bombardier INC,  Safran, and EATON Corporation from the aerospace industry, among other big companies from various industries such as 3M, Becton Dickinson, GE, Jhonson & Jhonson and Plexus, among many others.
Is you business considering to move to Mexico? Mexcentrix can help you by facilitating the process through a smooth start and running of operations. Contact us!